Surgery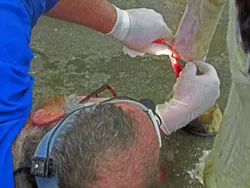 We treat many soft tissue and orthopedic cases, from routine castrations to neurectomies, hernias and cryptorchids. Cases are monitored with EKG, blood pressure, pulse-oximetry and blood gases as necessary. We also offer ovariectomy and other reproductive surgeries, as well as dental and sinus surgery. We provide management to all surgery cases.
Endoscopy/Gastroscopy
We offer endoscopic evaluations of the upper respiratory tract to help evaluate bleeding, guttural pouch disease and laryngeal/tracheal/pharyngeal problems. Imaging of the upper GI system is the gold standard for diagnosis and follow up. Ulcers are a common performance limiting problem in horses which can result in weight loss, behavior change and colic.
Imaging of the upper airway and GI tract is vital to our mission of "revealing the truth" about areas that are not visible from the outside.
Pre-purchase exams
We perform extremely thorough pre-purchase exams. A written report is provided, and the findings are discussed in detail. Additional services may be added in addition to our traditional report such as; lab work, digital x-rays, endoscopy, gastroscopy, and ultrasound–are also available as part of the exam.