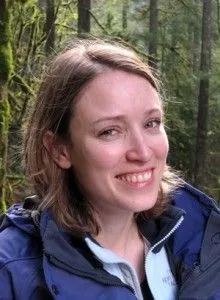 Dr. Claire Smith - Medical Director
After seriously considering making a career of riding, Dr. Smith started pre-veterinary course work in California and then enrolled in veterinary school at the University of Wisconsin. In addition to the regular curriculum, she completed nine externships at some of the top equine hospitals and practices in the country.
Following graduation Dr. Smith accepted a surgical and medical internship at Oregon's Willamette Valley Equine Hospital where she gained additional experience in anesthesia, pain control, surgery, hospitalization of critically ill patients, neurologic cases, emergency and trauma medicine, neonatal foal care, imaging, and other areas of modern equine veterinary practice. She has been with Sound Equine since 2010.
Since being with SEVH, Dr. Smith has developed additional interest in podiatry, sports medicine, geriatrics, general dentistry and donkeys. Dr. Smith does not do reproductive work or work on non-equines.
Her husband, Brad Green, is an internal medicine doctor for small animals. His office is in Olympia, Washington. Between them they have two cats, two dogs, and two horses. They welcomed a daughter in December of 2015.
---
Dr. Beau Green - Associate Veterinarian
Dr. Beau Green holds a B.S. in cellular, molecular and developmental biology from the University of Washington and graduated from WSU College of Veterinary Medicine. Following veterinary school, Beau completed a year-long medicine and surgery internship at Bend Equine Medical Center. His veterinary interests include emergency care, dentistry, ophthalmology, and endocrine/metabolic disease.
Beau is the proud, loving owner of two kitties and a 19 year old Thoroughbred mare.
In his free time Beau is an avid mountain biker, climber, and sailor.
---
Dr. Charlie Fahy - Associate Veterinarian
Dr. Charlie Fahy grew up on the east coast where their family trained and raced Standardbreds. Outside of harness racing, Charlie rode hunters and jumpers and was active in 4-H. They also bred and showed Netherland Dwarf rabbits.
Dr. Fahy earned BS degrees in Biology and Animal Science from the University of Findlay in Findlay, OH. They then attended The Ohio State University College of Veterinary Medicine, with an equine emphasis, followed by a one year equine internship in field service and internal medicine. After their internship, Dr. Fahy completed a 3 year residency in Large Animal Internal Medicine at the University of Tennessee in Knoxville, working with a variety of farm animals in addition to horses. Their interests and areas of expertise include emergency and critical care, neonatal medicine, respiratory disease, neurology, dentistry, and managing hospitalized patients.
While Dr. Fahy's area of special skill and expertise is treatment of sick horses (they generally remain in hospital) and more advanced diagnostics, they are looking forward to providing limited preventative and maintenance care for your horses, small ruminants, and camelids. Sometimes it is nice to see healthy animals too!

Charlie moved to Washington 2021 with their 2 German Shepherd Dogs, Kobe and Theodore, and 3 long-haired cats - Cricket, Spyder, and Flea.

---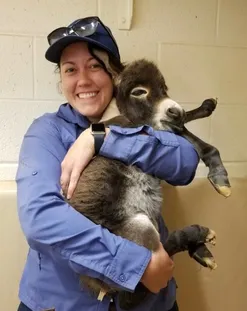 Dr. Cori Youngblood, MS, DACVS-LA - Associate Veterinarian
Dr. Cori Youngblood, grew up in Sequim and began riding at an early age. She competed in English and Western performance as well as Junior Rodeo and loved exploring the trails of the Pacific Northwest. She attended Washington State University for my undergraduate and veterinary degrees. Following vet school she completed internships at Mid-Atlantic Equine Medical Center in New Jersey and Rood and Riddle Equine Hospital in Lexington, Kentucky. After her internships, she completed a two-year large animal clinical fellowship at Oregon State University and then a three-year equine surgical residency at Kansas State University while concurrently earning a Master's degree in Veterinary Biological Science. She became board certified in large animal surgery in 2020 and practiced as a surgeon in Southern California for two years.
Returning to the Pacific Northwest not only allows her more time to spend with my family, but also equips the horses and their family members of the area with an accomplished resource. She looks forward to providing your horse with quality, compassionate medical care.
---
Dr. Sam Dzierzak - Associate Veterinarian
Dr. Sam Dzierzak is originally from southeastern Wisconsin. She started riding at the age of 12, getting foundations at a hunter/jumper barn and then exploring and showing in several disciplines including dressage, polo, and AHA shows. She received her bachelor's degree in Animal Science and Biology from the University of Findlay and graduated from the University of Wisconsin - Madison in 2017 with her DVM. She completed an internship at Southwest Equine Hospital in sunny Scottsdale, Arizona and continued to gain valuable experience working in a referral hospital alongside boarded specialists. Her areas of interest include sports medicine, emergency care, anesthesia, and internal medicine.
Dr. Dzierzak moved to the Kitsap peninsula in 2022 with her boyfriend, Jason, their two dogs (Scarlett and Luna Bear), and her Arab mare Raja. They look forward to exploring all the PNW has to offer!
---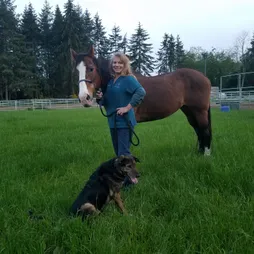 Dr. Lhea Mundell - Emergency Relief
Dr. Mundell is primarily offering support to the emergency side of our practice. With her extensive background in mixed-animal medicine, she has already found a place working with our livestock patients.
Lhea was born and raised on a family dairy farm in Indiana that later was converted to a cow-calf operation. She grew up both working cattle and riding for pleasure. As a youth she was active in 4-H, FFA, and participated in multiple sports.
Dr. Mundell obtained her DVM from Purdue University and worked with both large and small animals in Southern Indiana.
She earned board qualification in large animal medicine and surgery during her residency at UC Davis California, working with both equine and farm animals. Following her residency, she moved to Washington State with her husband, Alan Mundell, a Veterinary Dermatologist. Dr. Lhea Mundell also worked in large animal medicine and surgery at Pilchuck Veterinary Hospital.
The past several years Dr. Mundell has focused on raising and homeschooling five children. The family are active members of Kingston Christian Church, AQHA All-Around showing, and they compete in multiple rodeo events.
Despite a very busy family life Dr. Mundell has remained active in practice via locums at various veterinary practices and extensive continuing education. Dr. Mundell looks forward to working with the Sound Equine staff and their clients!
---
Dr. Armando Nieto- Consulting Veterinarian: Acupuncture and Chiropractic
Dr. Armando Nieto was raised in Colorado and New Mexico, and graduated from veterinary school at Colorado State University in 2008. He worked in mixed and large animal practice in California for 3 years before joining a racetrack-exclusive practice in NM, attending to two winners of the richest race in quarter horse racing—the All- American Futurity.
The excitement of the racetrack eventually took him to the thoroughbred tracks of Kentucky and Florida for another five years. Based at Churchill Downs, Dr. Nieto had the good fortune to work on some of the finest racehorses in the world, including several contenders for the Kentucky Derby and the winner of the 2019 Preakness Stakes.
Dr. Nieto relocated to Kitsap county 2 years ago, bringing with him a strong interest in lameness and medicine for the performance horse. He has been a practicing equine chiropractor for 10 years and is recently trained in acupuncture, bringing a multi-faceted approach to your horse's soundness and performance issues.
While not working, Dr. Nieto enjoys all of the delights the Pacific Northwest has to offer and he can be found chasing sea-run cutthroats with a fly rod, working on endless wooden boat projects in his garage, or spending time with his beautiful 11 year old daughter.
---
Dr. Lindsay Helvey - Consulting Veterinarian: Advanced Dentistry
Dr. Lindsay Helvey has been providing exceptional veterinary care for horses in the Puget Sound area since 2011. She graduated from Colorado State University College of Veterinary Medicine and Biomedical Sciences in 2010, and then completed an internship at Glenwood Veterinary Clinic in Glenwood Springs, Colorado. Her husband's career brought them to Washington, where they have grown deep roots.
Dr. Helvey's interest in dentistry started early in her career as she observed the multitude of benefits high quality dentistry could provide her patients. During her career with two outstanding equine veterinary clinics here in the Northwest, her focus gradually shifted to equine dentistry. She has nurtured that passion with continuing education courses, self-study and mentoring from talented veterinarians who specialize in dentistry. She is excited to now devote her entire veterinary focus to her chosen specialty.
Dr. Helvey works out of Sound Equine Veterinary Hospital on a referral basis, one to two days a month, in addition to her own private practice.
---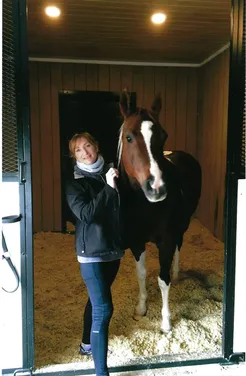 Allyson Harris - Head Technician
Allyson was born and raised in Kitsap County. She has always loved animals and planned on getting into a vet assistant program after high school. While checking out schools in the area she learned about a Horse Management program through Green River Community College. She completed their program in 1986 and started working with Arabians as a show groom. During that time she met her husband Greg (a horse trainer).They married in 1990 and have four daughters and a grandson. Their work has taken them to farms in the Mid-west, the Southwest, the Rocky Mountains, and the West coast. In her free time Allyson enjoys hiking, trail riding, reading, and spending time with family.
Marissa Shubin- Office Manager
Marissa is an Olympic Peninsula transplant who grew up raising horses,
showing horses and taking an in depth interest in animals and pets at an
early age. Marissa sought education in veterinary service shortly after
graduating from high school, which began with the Vet Technology
program at Yuba College in Marysville, CA. In 2011, Marissa was awarded
Certification as a Veterinary Practice Administrator by Purdue University in
West Lafayette, IN. She began her career in veterinary medicine in 2003
and has been working as both a practice owner and practice manager
since 2007.
Some highlights of her career have included dental work on Bengal Tigers
and rescue work with orphaned black bears.
In her spare time, she continues to pursue her Bachelor's Degree in
Accounting through Southern New Hampshire University and spends time
with her husband, dogs, cat, and horses.